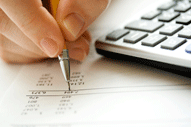 Copland CPA
Professional Corporation
325 Renfrew Drive, Suite 301
Markham, Ontario
Canada
L3R 9S8
Tel: 905-477-1300
Email: enquire@copland-ca.com
Welcome

Copland CPA Professional Corporation is a Toronto area CPA firm that provides client focused and pro-active services to small and medium sized private businesses in the areas of specialized taxation, accounting, auditing and biblically-based financial advice.

Client Focus
Our firm's philosophy is to do a few things well and not try to do everything. Our clients are exclusively owner/managers of their companies, and because of this specialization, we are able to provide highly effective and efficient services. The types of businesses that we serve are quite diversified. Our clients include companies in the service industry, personnel placement companies, management consultants, computer programmers/systems analysts, retailers, wholesalers, distributors, manufacturing companies, real estate development and construction companies, and professionals such as doctors and chiropractors among others.

The size and sophistication of our clients vary substantially (sales from $200,000 up to $100,000,000 per annum), but they all have in common the fact that they are self-employed and private business owners. As a firm, we are small enough to give personalized and fast service, but we are still large enough to effectively and efficiently serve the needs of fairly large companies.

We are passionate about providing our clients with excellence and we have a track record of being trusted and well-respected. Our clients have told us over and over again that we have made a difference for them.

Pro-Active Advice
As a firm, we believe in being very pro-active with respect to providing advice to our clients. As a business owner, you simply don't have the time and perhaps even the inclination to keep up to date with the rapidly changing tax laws. For example, when the Federal Government brings down its budget, we review the budget in detail and personally contact clients to explain any significant tax planning opportunities arising as a result of the budget.

In addition, from a financial perspective, we will try to anticipate any future financial problems that a client could have and will advise in advance accordingly. Sometimes this would involve developing and implementing a debt reduction strategy. At other times, it will simply involve strengthening one's balance sheet or accumulating a "cushion of cash" with the objective of surviving the potential difficult times ahead. As well, we frequently get involved in preparing proforma financial statements and cash flows which can be extremely helpful to the business owner as well as satisfying the needs of the bank.